Welcome to the Clankie Family Genealogy Pages. The goal is to piece together the history of this family in as great a detail and as accurately as possible. Much of the material collected here, as well as this homepage, are a project of writer and linguist Dr. Shawn M. Clankie, with a great deal of help from Judy Bogenrief and other relatives. If anyone out there has any Clankie photos or documents you don't see here, please email me at shawn@res.otaru-uc.ac.jp. I am descended from William Kleinke, Henry Clankie, Earl Clankie, and Loren Clankie.
History
After more than 100 years in the Rockford area, the Clankie's have begun to spread out, now reaching from Japan to Florida, with probably many unknown descendents left behind in the Germany/Poland area. If you are a descendent in Europe, please contact me!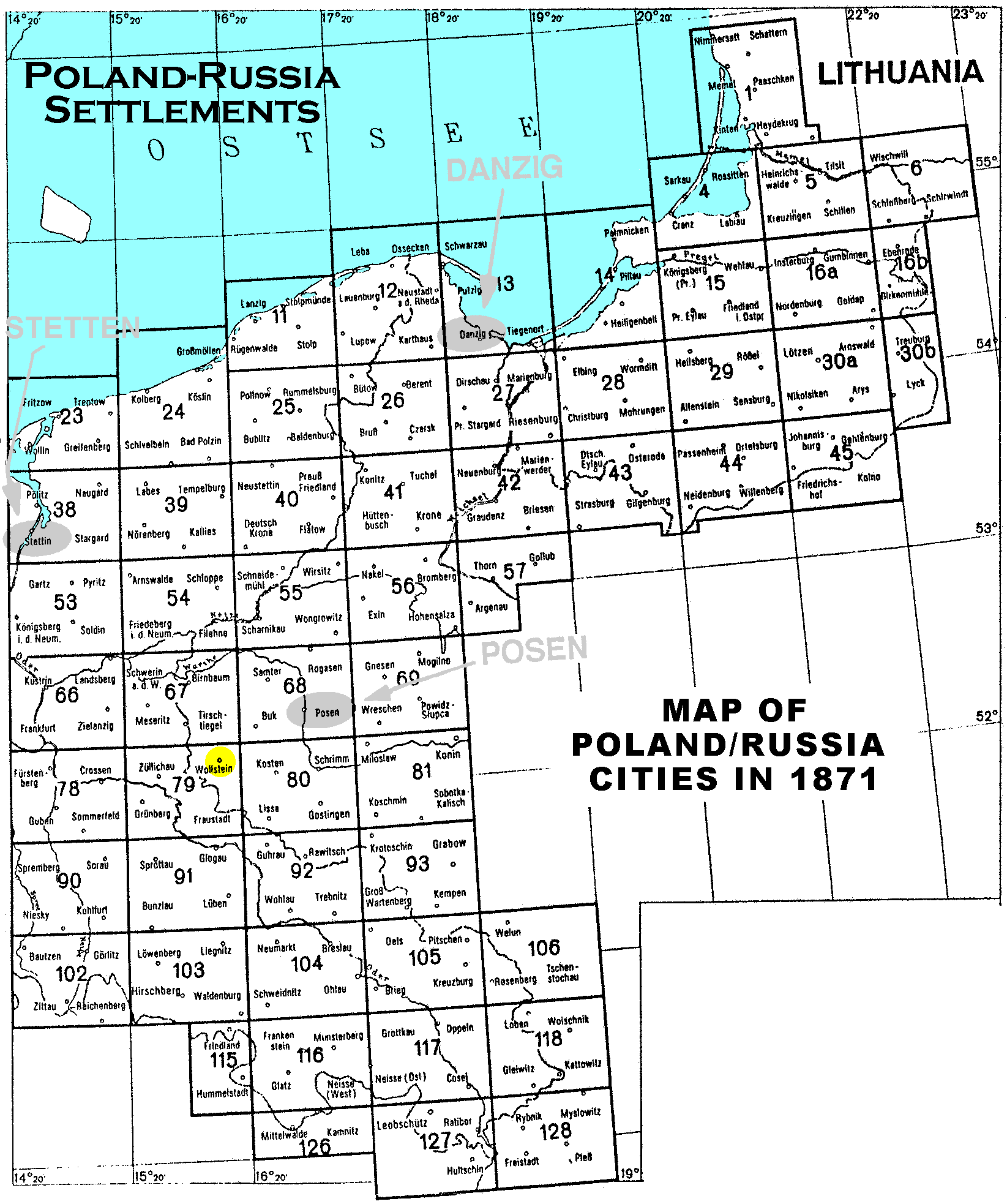 <- Click on a map to enlarge it. ->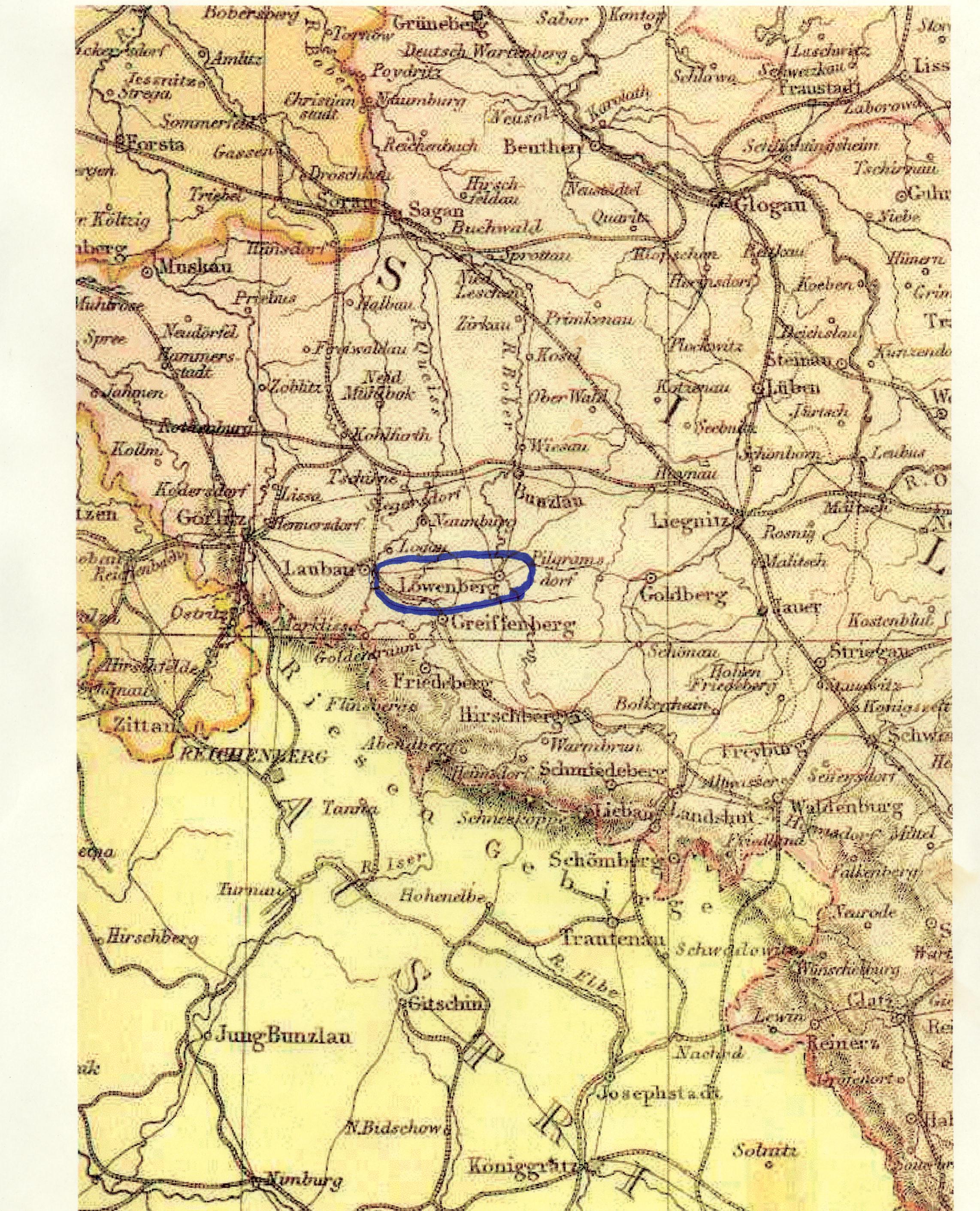 It's best to start at the earliest known level with William Clankie the first Clankie in America. The history of the Clankie family prior to William Clankie's arrival in the 1870's is sketchy at best.

Generation 1 in America

1-1 William Kleinke (Jan. 28, 1845-Sept. 1, 1912) Aged 67 years.

Married Albertina 'Tina' Hopp of Loewenberg, a town in the Silesia region of Prussia (now Lwowek-Slaski in southwestern Poland). Loewenberg can be seen in section 103 of the map on the right. William and Albertina had 8 children: Augusta 'Gusty' Clankie Paulsen, Henry Clankie, Minnie Clankie Kane, Tina Clankie Kingsley, Charles Clankie, Albert Clankie, Fred Clankie, Edward Clankie.

Obituary from Belvidere Daily Republican (Monday, Sept. 2, 1912)

Wife Finds Corpse of Husband Lying in Bed at her side

William Kleinke expires as the result of a fall-was well known for many years in Belvidere-left two years ago for farm near Chemung.

William Kleinke, for many years a resident of Belvidere, died yesterday morning on the farm home near Chemung, where he has been for the last two years.

Death came without warning. Mrs. Kleinke was awake at about four o'clock and heard her husband breathing heavily. At 5 o'clock she awoke again and found him dead.

A jury was called by the coroner of McHenry county and the cause of death was investigated. It was found that Mr. Kleinke had been subject to fainting spells. On Saturday he suffered one of these, and fell, striking the side of his head. The blow left a livid bruise but he recovered from the effects of it and went about the place as usual. He helped in the milking on Saturday evening and went to bed apparently as well as usual. It was decided that the fall had ruptured small blood vessels in the head and that during the night the leakage from these had formed a clot on the brain, resulting in death.

The funeral will be held on Tuesday at 9 o'clock at the home near Chemung, and the remains will be brought to Belvidere, internment being in the Belvidere cemetery, where services will be held at 1:30 o'clock.

Deceased lived in Belvidere for many years and was well known here as Billy Kleinke. He leaves a widow and the following children; Mrs. William Paulson of Cherry street, Belvidere, Mrs. Tina Kingsley and Mrs. Minnie Kane of Rockford, Henry of Rockford, and Ed., Albert, Fred, and Charles of Chemung.

He was about 69 years of age.

-end-
Cemetery Card, Belvidere Cemetery

Name: Clankie, William          Age: 67               Burial date: 9-3-1912
Birth place: Germany                           Date of birth: 1-28-1845
Description of burial space: 4th Add Block 17 Lot 23 Grave N-1 
Owner: Wm. Clankie
Parents: blank
Husband or Wife: Tina Hopp Clankie
Children: Tina Kingsley, Gustie Paulson, Fred, Edward, Charles
Funeral director: O. Peterson
Permit date or number: blank
Cause of death: Heart failure
Remarks: Died near Chemung, Ill.
Albertina 'Tina' Hopp Kleinke/Clankie (May 16, 1855-May 26, 1945) Aged 90 years.


(Left, A July 1941 photo of Albertina Clankie, sitting, with Leota and Albert Clankie, courtesy of Reva Clankie and Right, Albertina's Death Certificate)

Married to William Kleinke. Daughter of Albert and Amelia Hopp, she was born in Loewenberg, Prussia. They came to the U.S. in 1875, settling in Belvidere (where she is buried today in Belvidere Cemetary). According to her obituary from the Rockford Morning Star (May 27, 1945) at the time of her death she had six living sisters, Mrs. Lena Hauth of Belvidere and five others in Iowa, and two brothers living in Iowa. Her funeral service was held at the Atkins Johson funeral home.

Obituary from The (Belvidere) Daily Republican (Saturday, May 26, 1945)

Mrs. Clankie Dies; Service Here Tuesday

Resident here 70 years prior to going to Monroe Center in 1935—Survivors include 26 grandchildren and 24 great grandchildren

Mrs. Tina Clankie, 90, died this morning at 5:40 in St. Anthony's hospital, Rockford, leaving as survivors in her immediate family eight children, 26 grandchildren and 24 great-grandchildren. Her death was attributed to complication of age, following an immediate illness of two weeks.

Mrs. Clankie had been residing with a son at Monroe Center for 10 years, but had previously been a resident in this vicinity since the time she came to America from Germany at the age of 20.

The former Tina Hopp, Mrs. Clankie was born in Germany May 16, 1855, the daughter of Albert and Amelia Hopp. She was educated in Germany and married there to William Clankie, the couple coming to the United States soon after their marriage. Her husband preceded her in death.

Surviving are five sons, Henry and Charles of Rockford, Eddie, Fred, and Albert of Monroe Center; tree daughters, Mrs. Gustie Paulson of here, Mrs. Tina Kingsley and Mrs. Minnie Kane of Rockford; one sister, Mrs. Lena Hauth of here, and five other sisters and two brothers who are living in Iowa; and the 26 grandchildren and 24 great-grandchildren.

Funeral services wil be held for Mrs. Clankie Tuesday morning at 10:30 in the Atkins-Johnson funeral home, with the Rev. Andrew P. Burton, pastor of the First Baptist Church, officiating. Burial will be in Belvidere cemetery.

Friends may call at any time in the funeral home.

-end obituary-

(Second Obituary)

Rockford Morning Star May 27, 1945

Mrs Clankie, 90

Ill 2 weeks, dies

Belvidere, ILL, May 26-Mrs. Tina Clankie, 90, a resident of Monroe Center for the last 10 years and a former resident of Belvidere for 60 years, dies at 5:40 a.m. today in St. Anthony Hospital, Rockford, where she had been a patient for two weeks.

Born May 16, 1855, in Germany, the daughter of Albert and Amelia Hopp, she was educated there and married William Clankie in that country. They came to the United States in 1875, when Mrs Clankie was 20 years old, settling at Belvidere.

Surviving are five sons, Henry and Charles, both of Rockford, and Eddie, Fred, and Albert, all of Monroe Center; three daughters, Mrs Gustie Paulsen, Belvidere, and Mrs Tina Kingsley and Mrs Minnie Kane, both of Rockford; 26 grandchildren, and 24 great grandchildren; a sister, Mrs Lena Hauth, Belvidere, and five sisters and two brothers living in Iowa. Her husband dies previously.

Services will be held at 10:30 a.m. Tuesday at the Atkins Johnson Funeral Home. The Rev. Andrew P. Burton, Pastor of First Presbyterian Church, will officiate, and burial will be in Belvidere cemetary. Friends may call at the funeral home.

At some point, the family name changed from Kleinke to Clankie. Albertina's husband William's obituary is as Kleinke, whereas Albertina's is spelled Clankie.

-end-
Cemetery Card, Belvidere Cemetery

Name: Clankie, Tina Hopp          Age: 90               Burial date: 5-29-1945
Birth place: Germany                                    Date of birth: blank
Description of burial space: 4th Add Block 17 Lot 23 Grave 2-N 
Owner: William Clankie
Parents: blank
Husband or Wife: William Clankie
Children: Tina Kingsley, Gustie Paulson, Fred, Edward, Charles
Funeral director: Floyd E. Atkins   
Permit date or number: blank
Cause of death: blank                              Date of death 9-22-1974
Late residence: Rockford, Ill.
 
Go to listings for the children of William and Albertina Kleinke/Clankie
Read about my trip to Lwowek-Slaski, Poland (former Loewenberg, Prussia) to search for information on the family.
The trip to Lwowek-Slaski, Poland
Part I
I knew the trip wasn't going to be an easy one into the south-west corner of Poland. By all accounts on the internet, the place barely exists. The once Prussian and Silesian city of Lowenberg was surrendered to Poland after World War I and much of the history of the city is now in decay. Before leaving on this trip to Europe I checked train and bus timetables and found nothing to the city, or better yet, town. The best I could do was to find a train to a neighboring city, Boliewicz, where I guessed I'd have to either walk, hitchhike, or take a taxi the remaining 12 or so miles. Resolved to get there by any means possible I decided to go to Boliewicz and brave it from there. The trip to Lwowek-Slaski was part of a much larger trip started a week earlier on August 31, 2005 where I went from Sapporo to Osaka to Paris to Lyon, then by car to Grenoble, France all in a single day. From Grenoble I traveled to the Cotes du Rhone villages of Chateauneuf-du-Pape, Seguret, Gigondas, and others, then back to Grenoble, on to Prague, and then to Lwowek-Slaski, Poland. Up to the day of the trip I did not know exactly how I would get to Lwowek-Slaski from the Czech capital. Prague has numerous major rail stations into and out of the city and my hotel offered little support for my attempt to get to Poland. I managed to find a train out about 9:30 am bound for Dresden, Germany and decided to hop on. From Dresden, I waited and boarded a train for the German border town of Gorlitz, and then changed to a Polish train to enter the county. Waiting in Gorlitz, alone on the platform, ahead of the other passengers, the German, then Polish border police were somewhat fascinated by the white guy with all these Japan stamps in his passport. I found them to be far friendlier than the Japanese immigration officials. Entering Poland through the southwest corner I couldn't help but notice how remarkably similar the landscape appeared to northern Illinois where I grew up. Anyone who has made the trip up I-90 between the northwest suburbs and the Wisconsin border will know what I am talking about. It looks the same as this part of Poland, minus the highway (and maybe 50 years). I remember thinking to myself that I can see why so many people from this area settled into Illinois.
I got to Boliewicz around 6pm and it was starting to get dark. I started to head for the bus station but realized after a long day of travel it would be worth it to get one of the taxis parked outside the station. I wrote the name of the town on a piece of paper and showed it to a driver. He wrote that it would be about 50 zloty or about 16 dollars, which I happily agreed to. I arrived in Lwowek-Slaski, the first Clankie to return there in 130 years around 7 pm and checked into the Piast Hotel. The Piast Hotel was the hotel of Lwowek-Slaski, with a small office and cash exchange and a small restaurant that was quite popular with the locals. I checked into my room on the second floor then went back to the restaurant for a dinner of breaded chicken and sauteed mushrooms.
Part II
The next morning I got up and headed out to find some breakfast and to take my first of many walks around Lwowek to get my bearings and to see what I'm dealing with. I found a small supermarket and bought some pastries and headed for a park to eat them while looking over the map. I had come believing that my best hope for records would not be with town offices (after all they were in Prussian, then German, then Polish hands) but rather would be with the churches. And in town there were four large churches. My assumption was that my William Kleinke and Albertina Hoppe were married at one of these churches in 1872. I started with the largest church at tall dark steepled church that matched eastern Europe well. But, when I got there it was boarded up, as were all of the period churches. This was going to be harder than expected. The once-beautiful city of Lowenberg had turned into a forgotten village in the Polish countryside. So, the churches were no help. Nor was the town office. Nor was the city cemetery. Most of the beautiful German family monuments boarding the outer part of the cemetery were unkept and had deteriorated. With Poland in charge and generations passing without visits by German families, most of the graves had long since been abandoned. Over the next two days I wandered the town a bit, looking at the murals painted on the sides of buildings wandering the city and abandoned rail station and generally examining small-town Polish life. On the third day I decided to head for Wroclaw to the regional library and records offices.
Part III
I got up on the third morning and checked out a day early. I was enjoying Llowek but as a small town there wasn't much to do once I'd exhausted my search. I headed to the bus station across from the hotel to try to catch a bus to Wroclaw. I managed to get a seat on one of the few buses making the roughly 3 hour trip to Wroclaw. Arriving around lunch time, I found myself in a truly masterful German city. I had heard so many people tell me of the greatness of Prague. But, in my view Wroclaw was far more personable and it's center far more beautiful. Like Llowek, Wroclaw was the former German city of Breslau. The center of Wroclaw was made up of cookie-cutter connected buildings like those found in Amsterdam or Brussels with numerous cafes and activities going on in the center. Arriving without a reservation until the next day, getting a hotel was a four-hour ordeal. On about the 30th try, I arrived at the Ramada and to my luck someone had just canceled. The hotel was happy. I was happy and I dumped my stuff in the room and took a quick shower. That evening I wandered the streets of Wroclaw marvelling at the beauty of the city and the contrast with Llowek. The next morning I got up and headed across the Oder river to the records office. I had heard that a few years earlier severe flooding had damaged the records office so I was a bit worried. When I got there, and with the help of the staff at the records office I found nothing. Their suggestion, try Berlin. So with Llowek and Wroclaw turning up nothing I opted to proceed with my vacation and leave the family stuff until I got back to Japan. I consider the trip a great success, even without finding what I had hoped to find. By going there I saw it firsthand, places my great-grandparents would have known. Maybe the next time I will try Berlin. After a couple days in Wroclaw I boarded a train for my next stop, Lodz.
Part IV
At Wroclaw I boarded a pretty nice Polish train for the two-hour ride up to Lodz (pronounced Wooj) where I was to give a lecture at the University of Lodz at part of a conference on Language and Law. Lodz was a pretty modern Polish city with a nice central shopping district. I remember well the internet cafe I went to each day because of the helicopter they had parked in the center of the cafe. I spent three days in Lodz and then boarded a bus for the airport at Warsaw. From Warsaw I flew back to Paris and then connected to fly back over Warsaw on my Japan Airlines flight to Nagoya's Chubu airport and then onward to Sapporo.
Last Updated: May 1, 2008