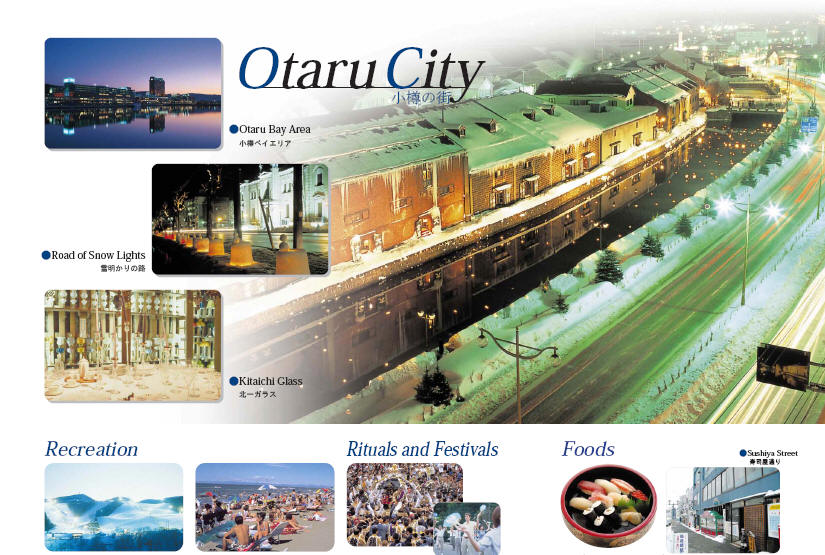 Otaru is a port surrounded by beautiful sea and mountains with a population of 150,000. It is one of the major sightsee-ing spots in Japan and many tourists visit here from both Japan and the rest of the world every year. It has perfect facilities necessary to residents and visitors.
Otaru Station
20 minutes on foot.
8 minutes by bus.
Post Office
10 minutes on foot.
Hospital
10 minutes on foot.
A polyclinic hospital is 20 min-
utes away by bus.
City Hall
20 minutes on foot.
The municipal library, the pub-
lic hall and the gymnasium are
located around the city hall.
Supermarket
20 minutes on foot.
All the necessary things in every-
day life can be purchased at the
supermarket near the station.
节日
夏季也是祭祀的季节。从
6
月到
7
月,三大神社相继有祭祀的仪式,直到
7
月底的海潮节为止。
海滨浴场
  小樽以拥有美丽的海岸线而出名。每到夏季,人们可以享受美丽的海滩,帆船和观光游览船。
饮食
小樽上等的寿司在日本享有盛名。除此之外,市内还有包括速食,西餐,中餐等在内的多家餐饮店。